A Proactive Approach to a Challenging Marketplace
---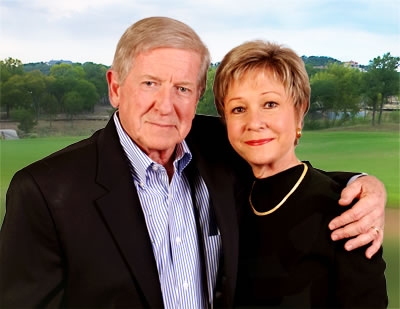 Realtors since 2003, Kathryn and Tom Williamson formed the Lake Travis Home Team at Keller Williams Realty in 2008. Their goal was simple and straightforward…to find better ways to meet their clients' critical needs in a very volatile marketplace.
"Today's uncertain Real Estate environment is filled with apprehensive sellers, demanding buyers, nervous lenders, and a myriad of constantly changing rules and regulations", Kathryn said. "Tom and I decided early on that the only way to protect our clients and address their needs was to meet the challenges of the marketplace head on. That meant taking a proactive approach to every aspect of our business, perfecting our skills, staying knowledgeable, and then passing that knowledge on to our clients so they can make wise decisions and enjoy smooth real estate transactions with no surprises."
Tom put it more succinctly. "The Devil is in the details", he said "and we pride ourselves on our relentless attention to detail. Our goal is to leave nothing to chance. It's not necessarily the easiest way to do business, but it's certainly the best."
The Williamsons moved to Austin in 1995 and to Lakeway in 2000. They think of themselves as "Naturalized Texans" and say they're enthusiastic ambassadors for Texas in general and Austin and Lakeway in particular. "We were very lucky; we could have lived anywhere in the world. We were also smart; we chose to be here. It's a choice we have never regretted for a moment." Tom says.
Tom spent over 30 years as an executive with Harcourt Brace Publishers. His assignments took them from New York to Cleveland, to San Antonio, and finally to Orlando, before their return to Texas. In all, they moved nine times and purchased and sold seven homes. It was only logical they would ultimately gravitate to careers in Real Estate. "We've had some excellent Real Estate transactions over the years and we've had some truly horrendous ones." Kathryn said. Tom added that "We became quite experienced and knowledgeable, but relied on our Realtors to help us navigate different markets in different states. Some did a wonderful job, but we had a few who made things more difficult than they needed to be." The Williamsons resolved to be the kind of realtors they would want to work with. "That's the question we constantly ask ourselves", they say. "That's our reality check".
Tom and Kathryn love what they do and their clients love their proactive, client focused approach, which has firmly placed them in the top ranks of Real Estate Professionals in the Lake Travis area.
They currently live in The Village of The Hills, near Lakeway and Lake Travis.

---
Kathryn W. Williamson
Realtor®
Lake Travis Home Team/Keller Williams Realty
Mobile: 512-731-4671
kathryn@kwmson.com

Education
Ohio University, Master of Arts (MA), 1973
Ohio University, Bachelor of Fine Arts (BFA), 1970
Experience
2003 - Present - Keller Williams Lake Travis, Realtor®

1998 - 2005 - Focused Learning, Executive Vice President & Treasurer

2000 - Author, "The Teacher's Journey"

1993 - 1997 - Pooh's Corner Children's Books, Co-Owner

1979 - 1982 - Leiber Katz Partners Advertising, Account Executive

1977 - 1979 - NCK Advertising, Marketing Account Executive

1973 - 1976 - University of California Santa Barbara, Instructor

1971 - 1973 - Ohio University School of Theatre, Lecturer
MEMBERSHIPS AND BOARDS:
Keller Williams Agent Leadership Council 2012
Institute for Luxury Home Marketing 2010- Present
Certified Luxury Home Marketing Expert (CDPE) 2012-Present

El Buen Samaritano, Board of Directors 1997 - 2003, President 2000 - 2002

New Texas Festival, Board of Directors, 1995 - 1998, Vice President 1996 - 1997

Lakeview Homeowners' Association Board of Directors, 1992 - 1994, President 1994

Central Florida Women's League, 1991 - 1993

Junior League of San Antonio, 1986 - 1989

Junior League of Cleveland, 1985 - 1986
Tom Williamson
Realtor®
Lake Travis Home Team/Keller Williams Realty
Mobile: 512-731-4671
tom@kwmson.com
Education
Harvard College, Bachelor of Arts (BA), 1961
Experience
2

003 - Present Keller Williams Lake Travis, Realtor®

1993 – 2005 - The Learning Initiative, President and CEO

1998 - 2005 - Focused Learning, Ltd. President and CEO

1989 - 1993 - Harcourt Brace School Publishers, President and CEO

1989 - 1995 - Holt, Rinehart and Winston, Inc., Vice President

1986 - 1995 - Harcourt Brace and Company, Senior Vice President

1982 - 1989 - The Psychological Corporation, President and CEO

1977 - 1982 - Academic Press Group, Executive Vice President

1962 - 1977 - Harcourt Brace College Publishers
MEMBERSHIPS AND BOARDS:
Certified Distressed Property Expert (CDPE) 2010-Present

The Austin Project, Board of Directors 1999 – 2008; Advisory Board 2009 – Present

SCORE Volunteer, Chair, Austin Chapter, 2003 – 2004

Lesson Lab, Board of Directors, 2001 – 2003

University of Texas at Austin College of Education Advisory Council, 1995 – 1998

University of Texas at Austin Psychology Department Visiting Committee, Co-Chair 1986 - 1989 and 1995 – 1998

Quality Education for Minorities Network, Board of Directors, 1993 – 1996

San Antonio Literacy Commission, Chairman – Board of Directors, 1987 – 1988